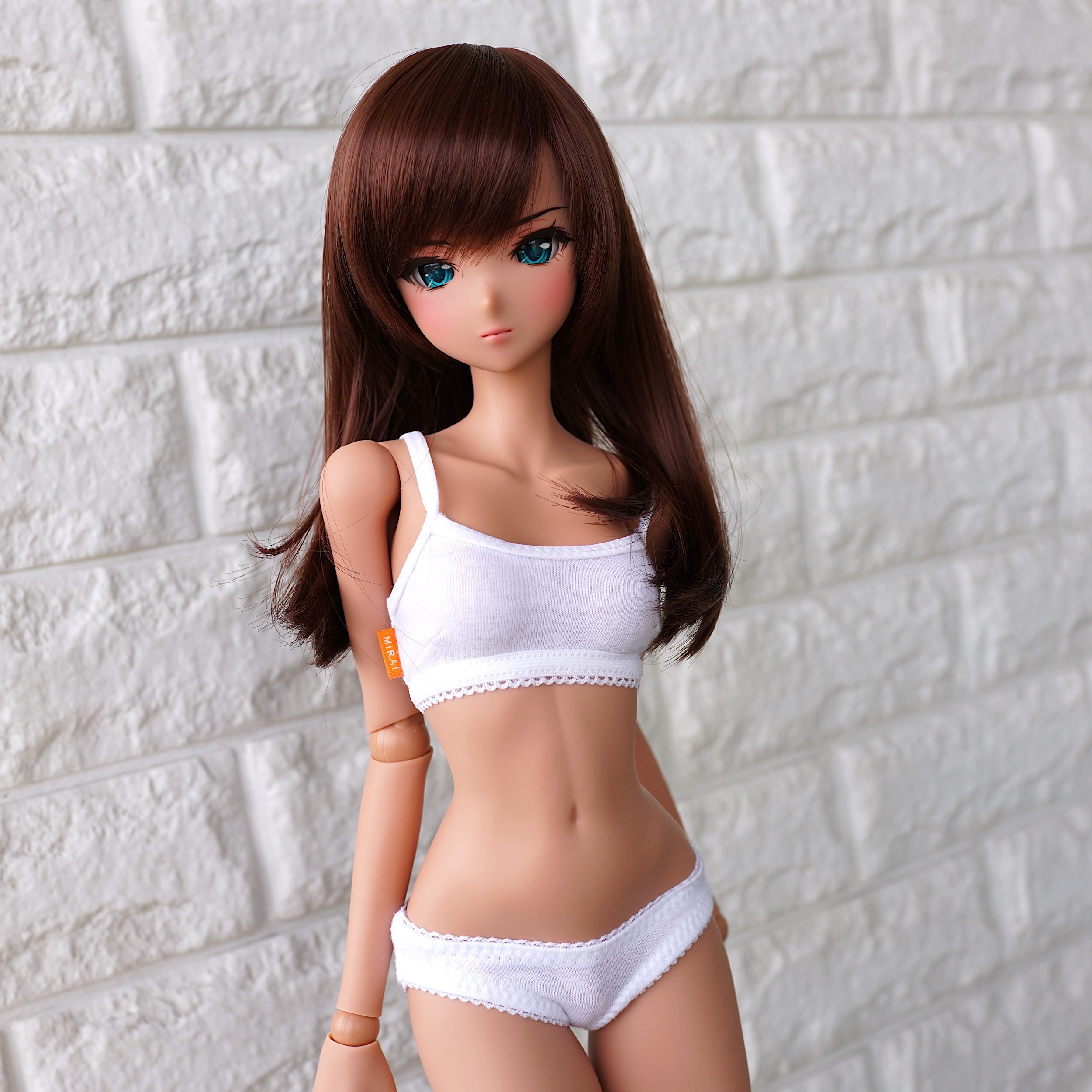 This is a photo of the actual product version of Destiny which is on her product detail page. We only take orders when photos of the actual product are ready. Production methods for prototypes and products are completely different and taking orders based on prototype photos is misleading with high potential to cause disappointment when the product actually arrives on the doorstep - I know this because its happened to me many times and I don't want anybody going through the same experience with our brand. Having our products in the hands of an unhappy consumer does our brand no favors and the effort taken to produce the product would have gone to waste. For this reason it's very important to set expectations.
The design of Smart Doll is heavily influenced by various aspects of Japanese Culture. While the aesthetics of Smart Doll are based on Anime/Manga culture, the concepts behind our product design is based on a set of Japanese design principles known as Wabi Sabi. These principles are typically applied to design but can also be applied to business and life too.
One of the principles we apply is FUKINSEI (不均整) meaning "imbalanced, imperfection, asymmetry" and states that beauty can only be achieved if there is a correlate amount of imperfection. Imperfections are purposely factored onto various stages of Smart Doll production even though we could attain perfection through our precision 3D modeling tools.
For example, designers who create faces in 3D would typically model one side of the face and then mirror it to the opposite side to save time which in theory should look fine but in reality gives an uncanny-valley look. This is because humans have evolved to recognize asymmetrical faces and instinctively know when something looks unnatural. When modeling the faces for Smart Doll we always make sure to introduce asymmetry at the final stage of development. We also do this for the torso and bust where one side is actually ever so slightly larger than the other.
During the electroplating process when making molds, imperfections are naturally introduced on the surface of the mold which is replicated on the casted part. Blemishes like small beauty marks, faint streaks and slight color differences occur which are all caused by various natural conditions (air pressure, temperature, moisture etc) that affect the soft vinyl in both its liquid and casted form. All of these factors enable us to create similar looking but uniquely handcrafted imperfect products which have a natural feel to them - a feel that humans are most familiar with.
Fukinsei is by no means a poor excuse for shoddy workmanship - on the contrary even more effort and cost is required to create natural looking forms.
Lets look at the photo of Destiny again - if you look closely you will notice that her left eyeline is thicker than her right eyeline and you can notice this with most of our other Smart Doll faces especially Mirai Anniversary - but if you didn't notice in the first place then its because the asymmetry looked natural to you.
Each face is painted by hand where imperfections are introduced on purpose to make sure the face is asymmetrical. Even though we use facemasks as a guide, lines, thickness of eyelashes, blur masks, blushes etc - everything is never the same for each and every Smart Doll.
I need to make this clear to set expectations for potential buyers who are expecting perfect products - you won't find any in Smart Doll Land.
Of late there has been a disturbance in the force. I get contacted by many consumers who always (always) always start off by saying something along the lines of "I have been in the BJD hobby for a long time and that means we demand perfection. As a doll maker you are expected to make perfect dolls."
Even though I explicitly mention that we are not in the business of making "perfect" products, we still end up attracting this type of customer. It's not good for the said customer because something arrived that they were not happy with - and we ended up spending time and effort and love in creating a product that ended up in the wrong hands. While many BJD manufacturers ask the consumer to put up with said issues and offer no refunds - when I offer a refund I get told that we are defensive and instead should make what they demand lol. You know, I have to laugh or I will go crazy.
For this reason I ask for your help. If you know of a BJD hobbyist who may be interested in Smart Doll please direct them to this post (I will update the site soon) - some will understand our philosophies but for those who don't, its in their and our best interests that they seek out products that suit their needs.
As an analogy - I do not want to sell peanut butter to somebody who I know has a peanut allergy - its not the right thing to do. If I know somebody wants a screwdriver - I'm not going to convince them to buy a spanner. We are not interested in making money by convincing folks that Smart Doll is for everybody - It's not.
And I'm not saying this just because we are doing well where maybe people think that "Danny can now afford tell customers that he don't want their money" - on the contrary - even from the day I launched Smart Doll in June 2014 out of my house (where I had no money to afford an office), I was explicit about our design philosophy as I have always wanted to make sure expectations are set. I believe that we have been able to grow this brand based on this transparency.
The demand for Smart Doll is at its highest ever and we are struggling to keep up with production. One Smart Doll in the wrong hands just means that somebody who understands our philosophies and who wants a Smart Doll just has to end up waiting for longer.
In this post I have included a photo of some cups. 3 of the cups are exactly the same and are pretty much perfect - they probably make tens of thousands of these - I got them from IKEA.
The brown cup that looks like it's about to fall over is made using the Japanese traditional method known as Igayaki. It's purposely designed with Wabi Sabi in mind and I love its asymmetry and imperfect surface.
The Smart Doll community is generally a nice bunch of folks when compared to some toxic communities online - I'm sure you may have stumbled onto a few. I want to keep our community a nice place to be even if that means less sales from potential BJD owners who are seeking perfect products anyway.
I didn't start up this business to make money - if I did want to make money I could have stayed at Amazon earning much much more than I do right now and still have time to sip orange juice on the beach.
Society has programmed us to presume that people only work for money and that businesses only exist to make money. While this is true for some - we feel that there is more to life than money which can't be taken to the grave anyway.
I understand that this post may cause some folks to jump ship but I would rather have less revenues (with a nice community of happy people) than more revenues with many unhappy perfection seeking customers.
Read what folks have to say about this on Instagram.
https://www.instagram.com/p/Bs2fPrdlBFc/